Dear Valued Customer,
Dear Valued Customer,
The ChannelOnline 7.0 release rolled out to all ChannelOnline customers on January 15, 2016. There are several new functional enhancements in this release, so please review the detailed notes below.
ChannelOnline Release 7.0 is a LARGE step forward for the application, founded on the accumulation of many front end and back end improvements that will affect how users work and conduct their sales transactions.
Highlights of the new and updated functionality:
Updated Quote and Sales Order document features

New Organizer Module for managing Notes and Tasks

Expansion of Account Types
Documentation / User Guides:


If you have questions about this release, please contact your sales manager, or contact Customer Support at ChannelSupport@CBSi.com.
ChannelOnline 7.0 Release - January 15, 2016
This release focuses on the development of updated Quote and Sales Order document features, new Organizer module for managing Notes and Tasks, plus the expansion of Account Types. In addition, we've started to introduce our new look and feel to certain key areas.


Changes have been made to the User Interface (UI) to enhance its look, feel and usability. These UI changes organize information, centralize tasks, increase layout flexibility, and allow users to adjust the viewing area.
Updates to the top navigation have helped to make it narrower and provide cleaner access to top-level functions.



The icon buttons and their meanings:


Global Search Settings/Search Bar - Moved up to the main header and all the search functions are grouped into a dropdown for ease of use. Searching for deleted items has been moved to Advanced Search.
Inbox - Document related notices, shipping updates, and system alerts are incorporated into a single icon.
Organizer - Users have the ability to launch the Organizer to view all records or add a simple Note or Task directly from the hover options.
User Icon & Name - The user icon is used to access My Account, preference settings, and to logout.
Help Center Icon - The question mark icon to the far right of the header will launch the help center and FAQs.
StoreSite list – The StoreSite dropdown list was moved into the Control Panel.
Search Bar - Search filter dropdowns and Keywords/Starts With selections were brought into the search box. To open the filter options, select the down arrow next to the current search filter.
Home Tab - the word Home has been replaced with the Home icon.
Active Account and Document Tabs - The text was replaced with an icon, and new hover functionality was added to provide quick, at-a-glance information about the account or document that it is referencing.
Open Documents - Formerly "Recent Documents" has been moved down into the Navigation from the header. Selecting the arrow will still show the list of documents being worked on.


Formerly the Left Menu; now adjustable by users.
Collapse & Expand - For users short on screen space, you can now set the control panel easily to one of three positions: keep it at the default expanded setting to be able to scroll down through recent activity and favorites, collapse left to icons and flyout menus, or hide it altogether and use a top menu icon. Each time it minimizes to the left, it increases the workable area of the main page. This two-step process on the left panel allows the user to better accommodate mobile and tablet devices when working in documents.


Changes to the Control Panel

Set the order of the sections in user's My Preferences settings. This allows users the ability to move recent activity or favorite lists to the top of the Control Panel

Added the new Recent Documents to view up to 5 open or closed sales documents
Added StoreSite selection (moved from header)
Hot Quotes can now be found under the Favorites section
Admin menu is supported with flyout menus for quicker access
Custom Links has its own section in the panel
Collapse arrows at the top and bottom of the panel
My Account access was moved up into the application header in the user icon
Add Customer now launches the Create Account window to select account type

| | | |
| --- | --- | --- |
| | | |
| Expanded | Icon View | Collapsed |
Legend has been implemented with show or hide functionality, again to provide more working area on the screen.
Help Center link will also launch the help center and FAQs (like the icon in the header).
Layout modifications have been made across all sales documents to organize document related data and reduce the amount of scrolling needed to access them.
Improvements include the grouping of similar data elements and better readability. Expanded from 2 rows to 3 rows / 3 columns. Advantages include:
Logical grouping of information
Ability to hide rows with information that is non-essential, just click on the dividing line to collapse (sticky feature)
Added details like document amount, credit available/limit, and add task function
Contact phone number and email address was added to bill-to and ship-to data
Use of Reference Icon to access date and shipping status details
Dedicated row for custom fields, reseller remit-to address (Invoices) and internal logo display


As part of the effort to make building a Quote and working with a Sales Order easier, we brought together all of the functionality needed to build and format the document into a special action bar located at the top of the product table. This bar will lock to the top of the page as you scroll, providing constant access to the functionality you use most. This change moves away from a single Line Action button into a series of buttons focused on specific functionality.

Available action buttons are:


Line Action has new capabilities like copy line items, insert line item fees, link lines, and print selected.


Copy Lines takes a selected line(s) that you would like to have duplicated within the document body, and it will be copied (with qty, notes, and pricing) onto the bottom of the product table.

Link Lines can be used to show a relationship between items without the use of a bundle. For example, to show the relationship between a hardware item and a maintenance contract or license.

Insert Line Item Fees is used for adding e-waste, recycle, or additional non-taxable fees and associating it with a specific line in a document.

Print Selected will take specific selected items from the list in order to create packing slips or partial order print and email documents.

Doc Action button is available on Sales Orders and is used to take lines and create POs, Invoices, and RMAs. Reorder Lines replaces the arrows for moving products in the product table. Click the button, and then drag and drop the items into a new place in the table.
View Filters on the Sales Order displays items without a linked PO or Invoice, or that are linked to other items.
Add/Import Update contains a handful of ways to get products into the document from outside sources, quickly add products and adjust margins.



Our updated Totals Section contains many of the features that users have asked for.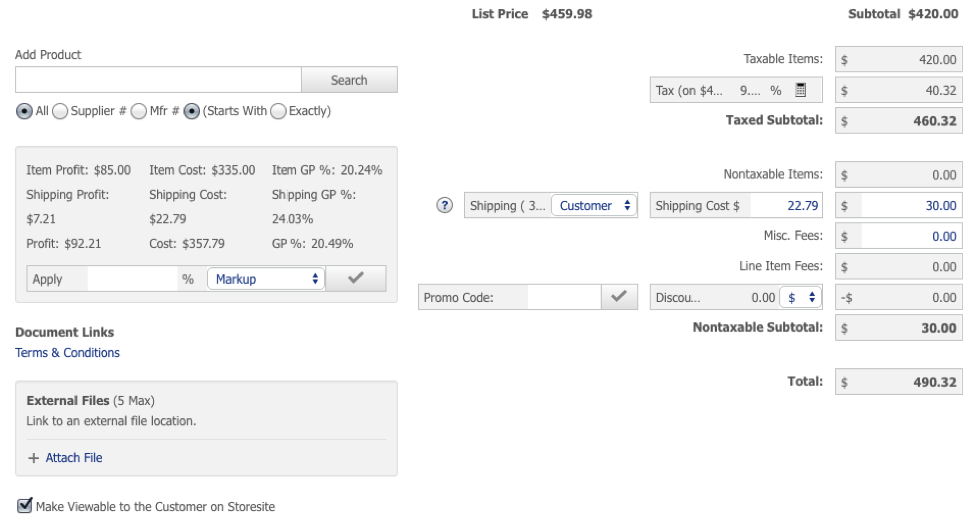 Specifically:


Ability to separate taxable versus nontaxable items.
Total List price for the document.
True shipping cost and price to customer with calculated total gross profit (enabled in Admin > Company Settings).
Totaling of line item fees / misc fees (enabled in Admin > Company Settings).
GP updated to manage the addition of shipping costs. When enabled, it can display item GP, shipping GP, and order total GP.
Link to external document - Brand new, it can only handle external links to documents like on dropbox. It does not store these documents in the application.


Document footer links have been converted into action buttons. The use of the buttons provides a slim footer section and grouping of like functionality into a single button. Different document types and states will have only the corresponding buttons shown.

Examples include:


Save, Save as Revision, Save and New, Save and Close
Copy to New Quote or Add to Hot List
Convert to Order / Cancel this Order / Complete this Order / Convert to Invoice
Send / Print / Email / Electronic Signature (Quote only)
NOTE: Styles for the header, product table action bar, and the footer carry through to all sales related documents: Invoices, RMAs, and Proposals.

KBZ is a Cisco-exclusive distributor with over 27 years in the industry, specializing in Cisco TelePresence, Collaboration, UC, and Cloud solutions.
As a leading Cisco Authorized Distributor, KBZ provides sales, marketing, and technical support, partner certification assistance services, and specialized programs to Cisco Reseller Partners serving Federal, state, and local governments and other vertical markets, including full onboarding and readiness programs. KBZ is headquartered in Doylestown, PA with offices throughout the US.
Improvements, Issues & Fixes


Clients subscribing to the Shopping Engine Export service will have their store sites open to search engine indexing (the removal of the NO ROBOTS tag).
Improved Delivery Window's email sending functionality by having the To, From, CC, and BCC field search the application database for names as you type. Multiple names can be added in a string separated with a comma, and ones outside of the database can be used.
My Preferences updated to accommodate new dashboard modules and the account activity component date range for account view
All Sales related documents have been standardized on the same header, product table with action buttons, totals, notes, and footer formatting and functionality.
Invoice setting "Convert Sales Order to Invoice" for companies that do not need line level invoicing and only want to convert the complete sales order into invoices (Similar to the pre-6.3 invoice updates, please contact Support before switching from line level functionality).
Expanded Invoice access rights to include two separate levels. The first level allows users to only Create / Edit Invoices for documents accessible through Group Permissions At the second high level rule, Create / Edit Invoices is used to access documents for all Customers (not limited by group rights).
RMA taxes can now be added using the calculator functionality in the Totals section.
RMA processors from the personnel list with the proper access right can now be assigned to accounts on the account edit page as approvers for submitted customer RMAs.
XML Additions are in place to support new line level linking and account types.
New Access Right for the ability to unlock Quotes, Sales Orders, Invoices, and RMAs.
Organizer Access Right to view ALL Notes and Tasks for all users.
Copying Document Templates in Admin can now be done on the template sub-tabs for Quote and Proposals by clicking on the copy icon in the column left of the delete column. It is no longer necessary to open the template to copy it.
Managing Tags for service, labor, and Organizer use has been moved into Admin > Company Settings > Manage Tags.
Updated Account (Customer) import file in the Import / Export Wizard to include new account types.
In Payment Options, added ACH / EFT to the Money Order / Company Check selection.
System Emails was expanded with a sub-tab dedicated to the Organizer and supported email templates (with default text) for sending Notes and Tasks.
Display tax breakdown on all documents (internal, external, and for sending). For example, this feature will display the state, county, and city breakdown when applicable (GST and PST in Canada).
Reporting on Sales includes global custom document fields, freight amount, freight profit, Line Item Fees, and document links for Invoice, Sales Order, RMA, and Purchase Order.
Reporting on Accounts includes account types and account level global custom fields.
Changed the name on the E-sign page button for the scroll up options from 'Show Options' to 'Signing Options'.
Added the ability to allow for word breaks in note areas when printing or sending as a PDF to help with longer note entries. This setting can be selected and reviewed in the Send Delivery Window.
Increased document event logging in the document activity log for all sales documents.
Document search results now incorporate the second status from the document record, statuses of: Due & Expired.

Introducted Activity Log tab at the account level to record major account modifications.

Cleaned up main search drop down with the removal of the deleted searches and the placement if them into the Advanced Search page. Plus organized the drop down categories by most frequently used.

Update ScratchPad with new line actions and activity log.

Default customer payment terms were not applying constantly on create quote.
Missing information on billing and shipping addresses are once again appearing in red
Duplicate tracking information can be managed in the PO shipping and tracking section to remove or reassign them to the correct containers.
Service / Labor descriptions and part numbers have been added to the Favorites list.
Service and Labor items can now be successfully added to the scratch pad.
Service and Labor items are now correctly referencing the tax profile table for taxable calculations.
Adding a service with a long name could previously result in an error
Document results Proposal sub-tab now includes the document total amount.
Issue with fully invoiced SOs containing Labor item still being able to use Convert to Invoice function.
Issue with updates to quantity for shipped and submitted items not adding new containers and adjusting to the line quantity.
Invoice Follow Up date would convert to the previous day when you saved the document.
Solved a status conflict causing previously canceled invoices showing up as active and Past Due and on reports as Due.
Sales Order to complete status will now work with fractions in the line item quantities, as in 2.5 hours of onsite labor.
In some instances, documents would display a different last modified date in Activity tab then would be shown in Search results.
Corrected situation where the list price for Ingram Micro-provided products was not refreshing.
Occasions where quantities doubled from the sales order when it was converted to an invoice.
In image gallery, images were not shrinking into the visible area, making them difficult to view.
CPAS situation where the hierarchy of a contact could not be changed because of a recalled order associated to that contact.
CPAS approvers seeing an order for approval multiple times is being prevented by disabling the ability for the Approve button after the first time.
Previously exported opportunities into ConnectWise now will convert to a "Won" status when resented with the SO in ChannelOnline.

Corrected an issue where supplier RMA templates (and the associated print preference settings for those templates) were not rendering for the Send (print / email) feature.